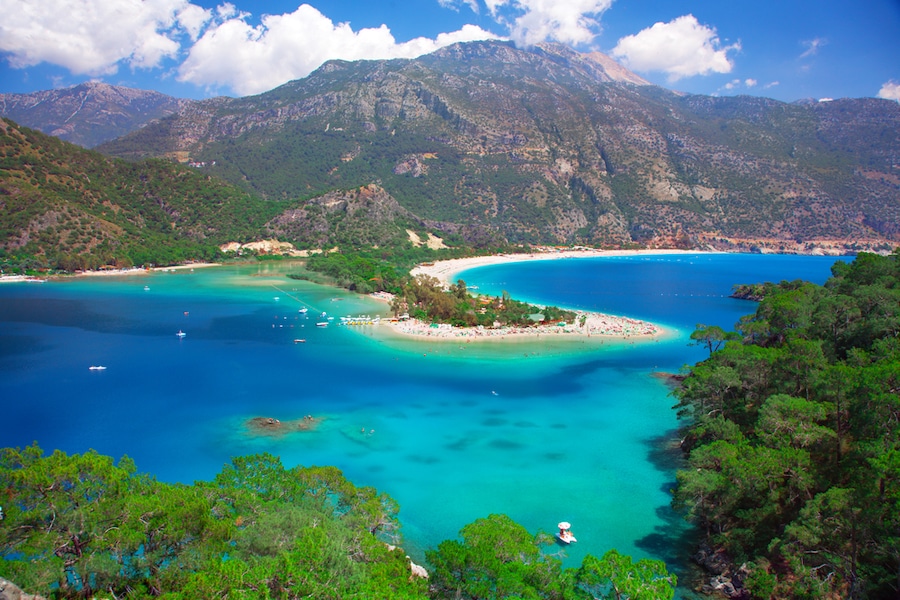 About Turkey

Turkey is a modern country with a captivating blend of antiquity and contemporary and of East and West. Get interesting information about Turkey and read up on our history, culture and art, nature and geography, seasons, weather and climate, real Turkish lifestyle and more. All you need to know about Turkey and beyond.
Learning about Turkey is a wonderful and enriching experience as you discover ancient traditions, a friendly Turkish culture, historical sites as well as places and destinations that will make a wonderful country for your holidays or to live.
Gocek is a little town situated in the Fethiye district of Turkey, and sits between Fethiye and Dalyan.
Today, Gocek has six marinas these being: Club Marina, Marinturk Gocek Village, Port Municipality Marinas, D-Marin Gocek, Marinturk Gocek Exclusive, and Skopea Marina. One of the most dominating characteristics of Gocek is that it is situated in a private bay that is home to several harbours and coves. Gocek was specially protected by law in 1998 and this is why there are no multi storey buildings. All buildings have to be two storey or below. Gocek offers everything you would expect from a tourism centre but is much more tranquil that other areas of tourism.
One of the beaches belonging to D-Resort Gocek is available for a daily fee or by taking out membership. Inlice beach is on the outskirts of Gocek and is about a ten minutes by car; it is run by the government. Other beaches such as Sarigerme, a long sandy beach can be reached easily by car or taxi. Further down from Sarigerme is the protected beach of Iztuzu in Dalyan Delta, and the other direction takes you to the beach at Oludeniz in about forty minutes. The only way to reach the main beach on the island is by water taxi.
Gocek is a high class sailing area with many charter boats, company sailing companies, larger yachts and the basic fishing boats. You can jump on these to visit the Twelve Islands.
The nearest airport to Gocek is Dalaman situated about 25km away from the resort. You can book a shared shuttle transfers prior to arrival or if you prefer there are private transfer facilities but this will incur additional costs.
LOCATION
Gocek is situated on the Dalaman and Fethiye highway on the Aegean coast of Turkey in Mugla Province. Since completion of the Gocek tunnel in 2006, the town has become a lot more accessible, the tunnel has a toll in the road and the first of its type in this region.
With its covered bay, the harbour is tranquil and secure, and used by many European travellers arriving from international waters. Gocek coves and the 12 islands can be described as heavenly hidden areas, with clear blue waters, lush green forests, and outstanding beaches, making Gocek a must in terms of destination. Those tourists that travel by road or air to spend their holidays are also catered for with the excellent boating, entertainment facilities and nearby beaches plus the numerous restaurants, cafes and bars.
POPULATION
The last recorded permanent population in Gocek was about 4,500 people; however this increases to over 7,000 during the summer months. Göcek is an arrival and departure point for all boats, yachts and liners and the sea traffic is extremely heavy in the harbour.
The majority of the local people make their money from the tourists whom the locals have aptly named "God's guests".
CLIMATE
Gocek's average temperature reached during winter is 14C (57F). Whilst during the summer the temperature reaches about 38C (100F), the sun shines for over three hundred days per year. It can reach as high as 40C (104F). Gocek is known for the fruit that is grown especially the tangerines, lemons and oranges; this must be due to the perfect temperatures.
QUALITY OF LIFE
With Gocek's unique natural environment and strict protection people are encouraged to buy a holiday home or to permanently reside in Gocek. It is such a beautiful, unspoilt town that buying a property or owning land is one of the best investments in Turkey, especially in Mediterranean region.
THINGS TO DO
Like all holiday resorts there is a lot to do, however the things that you really must include on this list are:
1. 12-island boat trip that leaves Gocek marina; and explores many different areas. Perfect way to relax, catch the sun and see the stunning scenery.
2. The centre of Fethiye, is just a short ride by bus and is a bustling place and home to the museum, castle, rock tombs, and old theatre. Stroll around the old town, down streets that are lined with traditional souvenir shops.
3. Visit to Dalyan which will take about 45 minutes and is worth setting a day aside for. Once you have explored the town, set off to the mud baths and the ancient ruins of Caunos. Finish you time here with a spot of sunbathing on the Iztuzu beach.
There is a lot to explore in this wonderful region and getting out and about is the best way to make the most of your time in Gocek.